Video Curated by San Deep
[mvc_timeline_father title="Bhagavan Ramana Maharishi's Timline" size="20″ clr="#000000″][mvc_timeline_son date="December 30, 1879″ caption_url=""]The birth of our beloved Bhagavan Ramana Maharishi happens at night 1 AM on the auspicious.
The occasion of Ardhadarshanam day (the day on which Shiva appeared before Patanjali and other saints) in the town of Tiruchuli in Tamil Nadu.
He is fondly called Venkataraman. His childhood is spent in playing various sports and he enjoys swimming. He has deep samadhi like sleep states. The house in which he is born is now under the jurisdiction of Ramanashramam and called as Sundaramandiram.
His parents were Sundaram Iyer and Alagammal, who were lucky to attain liberation by giving birth to such a great saint, the Maharishi.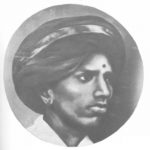 [/mvc_timeline_son][mvc_timeline_son date="1892″ caption_url=""]Sundaram Iyer, Bhagavan's father passes away compelling the young Venkataram to shift to Madurai along with his brother, Nagaswamy to his uncle's house, Subbiar. He excelled at all sports, studied at American High School and lives in Madurai till he turned 17 years of age. He always has a very deep sleep and his friends would often mock at this.
[/mvc_timeline_son][mvc_timeline_son date="1895″ caption_url=""]
The young Venkatraman explodes with an unknown ecstasy at the mention of the mountain, Arunachala situated at Thiruvanamallai when a visiting relative brings it to account.
At the same time, he encounters the text, Periyapuranam which has stories of 63 Shaivite saints of Tamilnadu.
Their benediction and devotion mesmerizes and inspires him to follow.[/mvc_timeline_son][mvc_timeline_son date="1896″ caption_url=""]The young boy, Venkataraman has a near death experience while at home. In the midst of his happy and healthy life, he is suddenly seized by the fear of death. He lies in shavasana stilling his body, his mind in complete awareness of the moment enquires, who is the one who is dead? In response, he receives that it is neither his body nor his mind which is truly him, but his real self which is immortal and ever present.
This is the narrative in Bhagavan's own words…
"It was about six weeks before I left madurai for good that a great change in my life took place . It was quite sudden. I was sitting in a room on the first floor of my uncle's house. I seldom had any sickness and on that day there was nothing wrong with my health, but a sudden, violent fear of death overtook me. There was nothing in my state of health to account for it; and I did not try to account for it or to find out whether there was any reason for the fear. I just felt, 'I am going to die,' and began thinking what to do about it. It did not occur to me to consult a doctor or my elders or friends. I felt that i had to solve the problem myself, then and there.

The shock of the fear of death drove my mind inwards and I said to myself mentally, without actually framing the words: 'Now death has come; what does it mean? What is it that is dying? This body dies.' and I at once dramatized the occurrence of death. I lay with my limbs stretched out stiff as though rigor mortis had set in and imitated a corpse so as to give greater reality to the enquiry. I held my breath and kept my lips tightly closed so that no sound could escape, so that neither the word 'I' or any other word could be uttered, 'well then,'  I said to myself, 'this body is dead. It will be carried stiff to the burning ground and there burnt and reduced to ashes. But with the death of this body am I dead? Is the body 'I'? It is silent and inert but I feel the full force of my personality and even the voice of the 'I' within me, apart from it. So I am spirit transcending the body. The body dies but the spirit that transcends it cannot be touched by death. This means I am the deathless spirit.' all this was not dull thought; it flashed through me vividly as living truth which I perceived directly, almost without thought-process. 'I' was something very real, the only real thing about my present state, and all the conscious activity connected with my body was centered on that 'I'. From that moment onwards the 'I' or self focused attention on itself by a powerful fascination. Fear of death had vanished once and for all. Absorption in the self continued unbroken from that time on. Other thoughts might come and go like the various notes of music, but the 'I' continued like the fundamental sruti note that underlies and blends with all the other notes. Whether the body was engaged in talking, reading, or anything else, I was still centred on 'I'. Previous to that crisis I had no clear perception of my self and was not consciously attracted to it. I felt no perceptible or direct interest in it, much less any inclination to dwell permanently in it."
[/mvc_timeline_son][mvc_timeline_son date="August 29, 1896″ caption_url=""]After the death experience, Venkataraman looses all interest in his studies, play and everything else. He is reprimanded for this by his brother and his teacher, on which he asks himself, "What work have I left to do here now"? So one fine day, when his brother leaves him a 5 rupee to pay his school fee, he writes a letter thus…
"I have set out in quest of my father in accordance with his command. This (meaning his person) has only embarked on a virtuous enterprise. Therefore, no one need grieve over this act. And no money need be spent in search of this. Your college fee has not been paid. Here with rupees two."
On that note, he leaves for Aarunachala which was a very tough trip as he finished his money reserves and has to walk, travel by a train, remain hungry and sleepless. None of the hardships however brings down his divine fervor.
[/mvc_timeline_son][mvc_timeline_son date="September 1, 1896″]Finally, on this day, which we celebrate as Bhagavan's Advent day, Venkatraman arrives directly before God Arunachaleshwara at Thiruvanamallai.
He announces his arrival to the lord by saying, "Beloved father, I have come here in obedience to your command". He never left the town for the next 54 years until he left his mortal coil. He stays briefly at the banana grove and then retires to an underground cellar called the Patala Lingam in the temple.
Naughty boys pelt stones at him even when the totally lost Venkatraman sits amidst total darkness and his body starts seeping sores out of the many insect bites that happen there. He has nobody consciousness and is attended and protected by Seshadri Swami. He is soon moved from there to Sri Subramannaiyar temple and Mangai Pilliyar Shrine.
Soon news reaches his home about his whereabouts and mother Alagammal and uncle Nelliyappa Iyer come to Thiruvanamallai to plead of him to return home.
Bhagavan remains unmoved by his mother's emotional blackmail and answeres her thus…
"In accordance with the prarabdha of each, the one whose function it is to ordain makes each to act. What will not happen will never happen, whatever effort one may put forth. And what will happen will not fail to happen, however much one may seek to prevent it. This is certain. The part of wisdom therefore is to stay quiet."
They go back home soon after and Bhagavan comes to stay at Pavalakatu.[/mvc_timeline_son][mvc_timeline_son date="1897″]He stayes at Gurumurtam where Palaniswamy, a Malayali man who came to serve him after listening about the great saint accompanies him.
The man continues to be Bhagavan's personal caretaker for the next 21 years.

(David Godman on Gurumurtam temple)
[/mvc_timeline_son][mvc_timeline_son date="1899-1902″]In 1899, Bhagavan roames around many caves at Arunachala mountain like mango cave, Namasivayar cave and Vannathi cave.
Finally in September 1899, he comes to reside in Virupaksha cave where he stays for next 17 years.
Here he composes the devotional treatise of Aksharmanmalai, Ramana Stuti Panchakam and later in 1902, the teaching of "Who am I", which is compiled by Sivaprakasam Pillai.
[/mvc_timeline_son][mvc_timeline_son date="1906″]A deadly plague takes over the whole town succumbing many and the rest of the population all most flees the town. Bhagavan comes to stay at the Mulaippal tank and Pachaiammal temple.
This is the place where Parvati had done her penance for Shiva and is thus green colour in its layout (pachai means green in Tamil)
[/mvc_timeline_son][mvc_timeline_son date="1908″]The Jnani Kavyakantha (the one who had poetry in his throat) Ganapati Muni, fondly called as Nayana (father) who had practised several type of penances, comes to know of Bhagavan and proposes to him his discouragement of still remaining away from the truth.
He asks Bhagavan, what tapas is. Bhagavan answeres him thus…
"If one watches whence the notion arises, the mind gets absorbed there; that is tapas. When a mantra is repeated, if one watches whence that mantra sound arises, the mind gets absorbed there; that is tapas."
He gave the name of "Bhagavan Ramana Maharishi" and stays with Bhagavan in close association from 1922-1929 composing many prose and poetry works, finally succumbing to the light in 1936.[/mvc_timeline_son][mvc_timeline_son date="1911″]The first Western devotee to visit Bhagavan is Frank H Humphreys, a policeman by profession. Thus he opens the gates of his grace to the western world.
Writing about his first visit to the sage in the international psychic gazette, he says…
"On reaching the cave we sat before him, at his feet, and said nothing. We sat thus for a long time and I felt lifted out of myself. For half an hour I looked into the Maharshi's eyes, which never changed their expression of deep contemplation…. The Maharishi is a man beyond description in his expression of dignity, gentleness, self-control and calm strength of conviction."
[/mvc_timeline_son][mvc_timeline_son date="1912″]Bhagavan has his second death experience while walking around on the sacred hill. He suddenly turns livid blue, and loses all body consciousness, returning back after a while.
[/mvc_timeline_son][mvc_timeline_son date="1916″]Bhagavan lives at Skandashram from 1915 to 1922.
This is where his mother joins him and starts preparing meals at the ashram rather than having prepared food carried up – as had been the case since the earliest years.
She is the first woman to be allowed to stay there and takes over the kitchen.
She was ailing for a few days when Bhagavan takes deep care of her and she finally passes away on May 19th, 1922.[/mvc_timeline_son][mvc_timeline_son date="1922-1936″]Mother's body was carried down from the hill and Bhagavan personally monitors closely the work of constructing mother's samadhi himself.
He would initially visit there every day until he comes down and started staying there. Soon, Ramanashramam is created in that area and devotees started staying around him. Many Indian and Western devotees begin to visit him but he continues to remain indifferent to the fame or the ashram. His silent and powerful presence is a spiritual magnet that drew people from far and wide.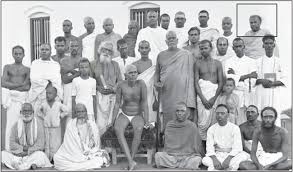 But it wasn't that he was not active. He would stitch leaf-plates, dress vegetables, read proofs received from the press, look into newspapers and books, suggest lines of reply to letters received, etc. Yet it is quite evident that he is detached from everything. There are numerous invitations for him to undertake tours. But he never moves out of Thiruvannamalai and from 1926 onward, out of the ashram, for by then he stops going around the hill. Every day people sit before him, mostly in silence.
Sometimes some of them ask questions some of which he would answer. It was a great experience to sit before him and to look at his beaming eyes. Many experience time coming to a stop and stillness and peace beyond description. Many of his famous devotees were Arthur Osborne, Paul Brunton, Eecchamal, Suri Naggama, David Godman and Robert Adams.[/mvc_timeline_son][mvc_timeline_son date="1927″]Bhagavan composes the famous 30 verse text of Updesa Saaram in all four languages of Tamil, Telugu, Sanskrit, and Malayalam.
[/mvc_timeline_son][mvc_timeline_son date="1934″]The western world is illuminated by Bhagavan's raptures when a western devotee called Paul Brunton visits Bhagavan and caught in his net, wrote a book called "A Search in Secret India" in the year 1934.
[/mvc_timeline_son][mvc_timeline_son date="1939″]On September 1st, 1939, the foundation is laid for Matrubhuteshwarar temple.
Its construction is finished in 1949.
Later, a Sri Chakra is mounted and also a larger darshan hall is created where Bhagavan is moved to.
[/mvc_timeline_son][mvc_timeline_son date="1945-1948″]The cow Lakshmi appears as Bhagavan's ardent devotee and delivers a calf on every Jayanthi day of Bhagavan for four years consecutively.
She is believed to be a reincarnation of his devotee, a woman called Keerai Patti who used to feed Bhagavan with green vegetables out of devotion in 1900. Laxmi visits Bhagavan every day until she attains moksha on June 18th, 1948.
[/mvc_timeline_son][mvc_timeline_son date="1946″]Devotees celebrate the Golden jublee of Bhagavan's arrival at Arunachala.[/mvc_timeline_son][mvc_timeline_son date="1948-1949″]In 1948, a pea-sized tumor appears on Bhagavan's left elbow which is a cancerous swelling. Over the next 14 months, Bhagavan is operated four times for the swelling which continues to recur after every surgery. His surgeries are done in February, March, August, and December respectively of the same year. Bhagavan continues to remain blissfully enveloped in his self and indifferent to the bodily pain. Through this time, he clearly showcases to the world about his high spiritual stature and many flocks to him for blessings and darshan. He continues to sit in tranquil peace blessing. On the evening of 14th April, Bhagavan's breath is heavy and he is made to sit up and he refused oxygen therapy. Some devotee in the outside hall started singing the Aksharmanmallai and a single tear rolls from Bhagavan's corner of the eye. He attains Mahanirvana at 8:47 pm when a blazing meteor of light flashes across the sky over the Arunachala mountain and is witnessed by many people in the skies clearly pronouncing his Maharishi status which he denied lifelong.
"Unveiled here I am, effulgent in my eternal reality."
[/mvc_timeline_son][mvc_timeline_son date="1950″]Bhagavan's samadhi shrine is constructed where the Parayana is sung twice a day every day and is a haven for devotees to discover their true self.
[/mvc_timeline_son][/mvc_timeline_father]
References, Important inputs, and Gratitude:
Bhagwan's timeline video curated by San Deep